Workshops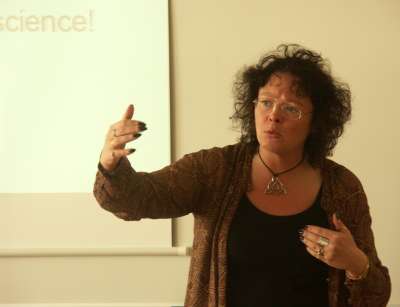 What makes teenagers tick?
This workshop will focus on stereotypes of the young adult, working with them, and understanding their needs.
It begins by focusing on stereotype, but also on images of specific individuals whose experience and needs might actually be at variance from that.
It also explores how images of the young adult change over time and the ways that they nonetheless remain a liminal group, often seen as a 'problem' in relation to services.
What we think makes teenagers tick may be coloured by not only media coverage, but by our experience as parents, if we have teenage children, and by the memories we have of what that time was like for us, no matter how good or bad.
This workshop, then, moves participants away from thinking of the young adult in generic terms, and considers specifically what may inform our working experience as library professionals and the impact of stereotypes and experience upon our services.
---
Assessing Picture Books
No-one working with young children in education and library environments has any doubts about the crucial role that picture books play in their reading development. However, concerns are frequently expressed about appropriate methods for assessing and selecting them.
These concerns are magnified when dealing with picture books for older readers. These impose different challenges for teachers, parents, carers and indeed children. All need help in appreciating their value and importance. Many library staff lack confidence in evaluating these books.
How will this training event help you?
This workshop will highlight the key skills required and examine the processes involved in assessing and selecting picture books. It will provide an opportunity to consider a wide range of materials for readers of all ages.
Topics to be explored will include the interaction between text and pictures and the ways in which illustrators and authors evoke fantasy and reality and the relationship between them.
By the end of the day you will have:
more confidence in the selection and assessment of resources
more knowledge of how picture books support reading development
developed criteria for evaluating picture books
analysed ways in which text and pictures operate together
a greater understanding of how picture books create complex, multi-layered narratives.
---
Children's Literature and the Internet
The aim of this workshop is to get participants exploring and assessing the various types of site relating to literature for young people, leading to the development of practical skills in this area.
There is a great deal of variety to be found with regard to web sites about children's literature. For instance, they may be aimed at an audience of young people, offering reviews, activities, access to authors, or stimulating writing skills. Alternatively, they may target adults with bibliographic and other information. There is also a range of quality, from the user friendly and attractive, to the dull and difficult to move around.
In addressing the need for a broader understanding of the quality and scope of such sites, the workshop, lasting around three hours, consists of three elements. The first is a talk on the various kinds of site. This is followed by a hands-on session based around a worksheet consisting of a series of questions that will help the participants assess sites. The final element will be a reporting back slot to share information about the sites explored and address any other issues that have arisen.
The host organisation will provide a computer suite of some description, with preferably two delegates per computer. The number of available machines will determine the number of places. A technician should also be available. A portal site will be put on the 'favourites' or 'bookmarks' on the day. It will lead to an appropriate selection of sites.
---